In a recent decision from the EUIPO Board of Appeal, it was found that the there was a confusing similarity between the JÄGERMEISTER and ST. JOSEPH (as shown below) trade marks despite their aurally dissimilar word elements and conceptually dissimilar figurative elements. This has again opened up an age old debate, how do certain brands get away with lookalike products?
In this case the Board's decision is based on the overall impression of the graphic arrangements, construction, and colour schemes of the two marks.
Jägermeister joins a long line of similar decisions in relation to non-traditional trade mark infringements such as the likes of Lindt Chocolate and Unilever.
HOW DO YOU PROTECT YOUR BRANDS FROM LOOKALIKES?
The average consumer views trade marks as a whole, without paying attention to various minor details. Consumers are therefore more likely to grab an item from the shelves in a shop based on their recollection of the overall appearance, rather than scrutinising for possible discrepancies.
Well-known brands such as Lindt Chocolate (C-529/07) and Unilever (U 2016.635 Ø) have similarly succeeded in their efforts to protect their brand against infringement and dilution.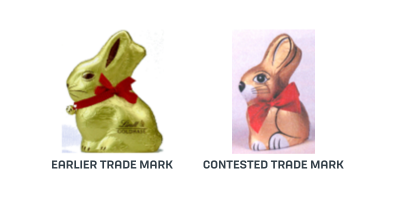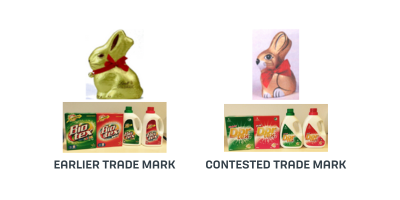 Depending on the degree of recognition of the earlier trade mark, even a low degree of similarity will be enough to create a link in the minds of the average consumers. With that in mind, the window for infringers to create confusingly similar products becomes wide open and enticing.
Especially in relation to "every-day" products, consumers tend to rely on their recollection of the visual appearance of the product. This provides infringers an opportunity to speculate, manufacture and market conceptually and visually similar products at a lower cost than the original.
Without sufficient intellectual property protection, companies are at risk of encountering infringers who take unfair advantage of the reputation and customer base of the brand. This can be detrimental to the brand's distinctive character and goodwill.
It's easy to think that protecting your brand is an uphill battle and only clear-cut cases succeed. Even in cases of a low degree of similarity between two trade marks, non-traditional trade marks can succeed.
Did you know that not only can you protect your trade mark, but you can protect your label and product too?
We at Potter Clarkson specialise in protecting and commercialising the value of brands and innovations. If you would like to learn more, please do not hesitate to get in touch.