There has been a third strike against Tesco in their long running saga with Lidl as Mrs Justice Smith has given another decision. For a full breakdown of the proceedings thus far, see our previous articles on the bad faith counterclaim strike out and reinstatement and subsequent judgment.
BACKGROUND: PREVIOUS DEVELOPMENTS IN THIS MATTER
In summary, Lidl first sued Tesco in 2020 after Tesco stated using a yellow circle against a blue background to advertise its 'Clubcard Prices' scheme (shown below).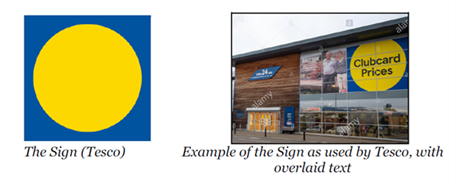 Lidl alleged infringement of its registered trade marks, shown below, under sections 10(3) and 10(4) of the Trade Marks Act 1994, as well as passing off and copyright infringement. In Smith J's first decision, she struck out Tesco's bad faith counterclaim which was subsequently appealed, and the bad faith counterclaim was reinstated.

In the following 19 April judgement, Smith J found in favour of Lidl on all claims of trade mark infringement, passing off and copyright infringement. Tesco's trade mark infringement counterclaims of non-use and bad faith were mostly unsuccessful, however the Wordless Mark was partially revoked for goods and services in which it had no use.
On Lidl's copyright infringement claim, Mrs Justice Smith found that Tesco's signs and Lidl's logo were similar enough that a presumption of copying arose which Tesco needed to rebut. They were not able to do so, and therefore copyright infringement was found.
WHICH BRINGS US TO YESTERDAY MORNING, WHEN...
...Mrs Justice Smith handed down a third decision in the case, this time determining what form of order she would make following the earlier decision of 19 April 2023, described above.
The discussion was in the context of what would happen if an appeal of trade mark infringement and passing off were successful. While Mrs Justice Smith did not grant permission to appeal, she assumed that an appeal would likely take place.
Tesco argued that if the finding of trade mark infringement was overturned, then damages for copyright would be a more appropriate remedy than injunctive relief.
CONSIDERATIONS
The judge stated that while the court has wide discretion to award damages rather than an injunction, the default position is that an injunction should be granted, and it is on the defendant to demonstrate why it should not. Smith J went on to consider the four criteria established by case law from Shelfer. These four criteria are:
Is the injury to the plaintiff's legal rights small?
Is the injury to the plaintiff's legal rights capable of being estimated in money?
Is the injury to the plaintiff's legal rights one which can be adequately compensated by a small money payment?
Is the case one in which it would be oppressive to the defendant to grant an injunction?
The judge found in favour of Lidl on all four. She also stated that these criteria ought not to be 'mechanistically applied' and that additional criteria could also be considered. However, she judged that if the answer to the first three questions is in the negative, it would be very unlikely for the court to refuse to grant an injunction.
Smith J considered that by not granting injunctive relief she would be permitting a continued violation of Lidl's copyright, which would effectively amount to granting Tesco a compulsory licence to use Lidl's sign. The judge determined that there must be a heavy burden on any defendant seeking to show that injunctive relief would be disproportionate.
Taking into account the circumstances and the behaviour of Tesco (who ignored several Part 36 offers by Lidl), the judge concluded that it would be inappropriate to limit the remedy to damages alone. She decided that the only certain way to end Lidl's continuing losses caused by Tesco's use of the 'Clubcard Prices' Sign would be to grant a final injunction.
This reiterates the usual position that if you infringe someone's intellectual property you can usually expect to be on the receiving end of an injunction.
It will be interesting to see if leave to appeal is granted. Watch this space.